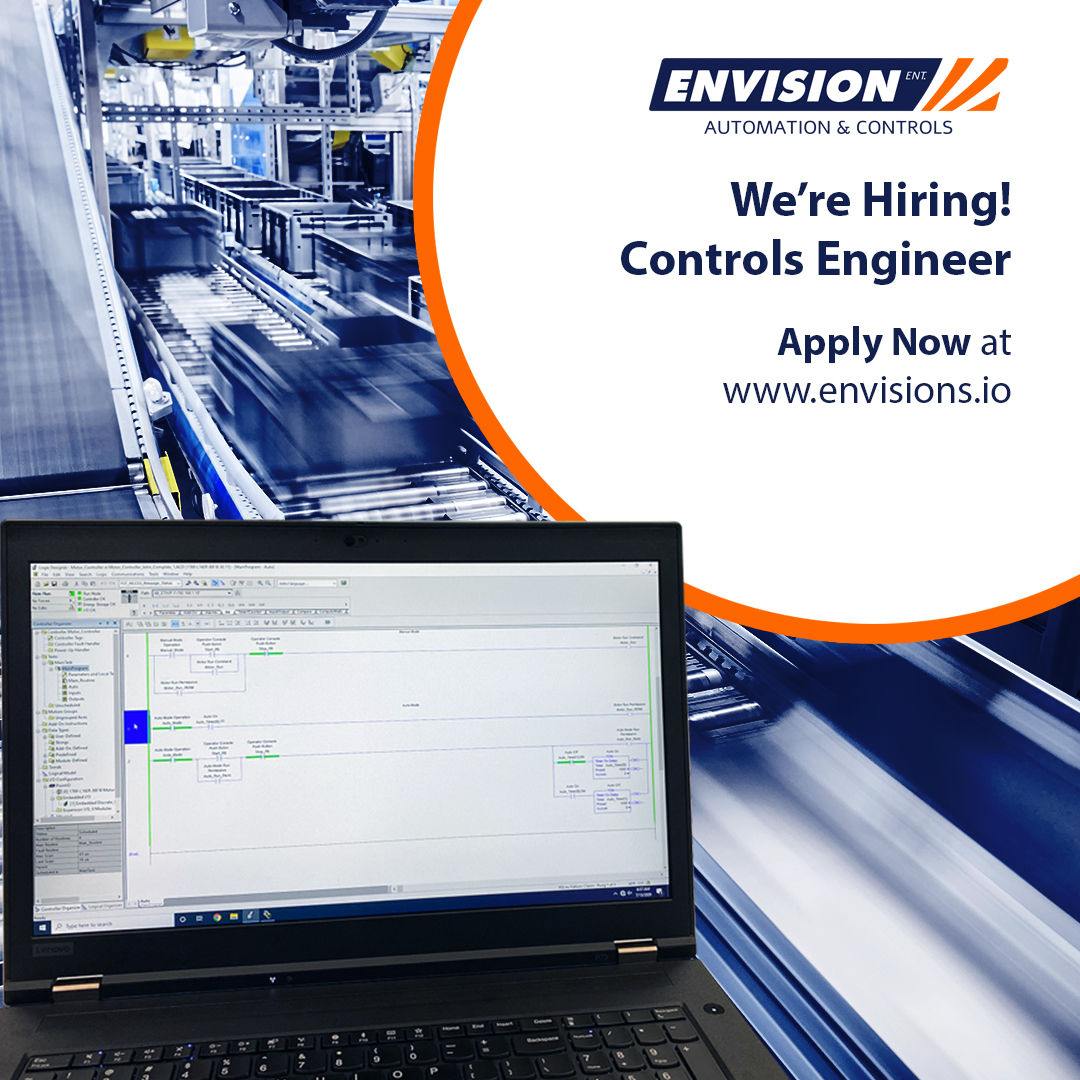 We're Hiring – Controls Engineer
COMPANY DESCRIPTION
Founded in January of 2019 in Evansville, IN. Envision Automation & Controls has been involved in multi-million dollar projects all around the United States. New York, California, Florida, North Carolina, Virginia, West Virginia, Kentucky, Indiana, and more. We have taken part in projects from every stage. From electrical design & drafting, panel fab, programming, and startup.
Our technology background is well rounded. Being proficient on several platforms such as: Allen Bradley, Siemens, Cognex, Keyence, Universal Robots, and more. This equips us to handle virtually any automation or controls task.
JOB DESCRIPTION
This position will be remote (from office or home) as well as travel and on-site work at customer plants.
This is a contract-to-hire Controls Engineer position. You will be paid as an indepedent contractor (1099).
You will be provided with company tools and software as needed.
Additional training will be provided to bring the candidate up to speed.
Envision Automation & Controls is team oriented. You will have help available when you need it. You can rely on your team.
RESPONSIBILITIES
As a controls engineer you will develop and integrate control systems solutions for our clients. As well as provide on-site and off-site assistance to our clients during service calls. You are expected to provide start-up support on-site at the clients plant. You are expected to work effectively with all parties to ensure absolute customer satisfaction.
Develop & integrate control systems.
Repair & replace control systems & components.
Analyze and problem-solve control and electrical issues.
Adequately communicate with client & plant personnel.
Provide start-up support and troubleshooting.
Maintain field service reports and expenses.
Maintain company vehicle and equipment.
Identify opportunities for upgrades and additional solutions.
Provide training support as needed to our clients.
EDUCATION & EXPERIENCE
Two-year technical degree and/or 5 years of related work experience.
PLC programming & troubleshooting experience.
AutoCAD Electrical & electrical schematic design experience.
Basic computer networking knowledge (Training Available).
Experience with Allen-Bradley, Siemens PLC's and products.
Additional internal training may be provided by Envision Automation & Controls.
PERSONAL CHARACTERISTICS
Positive Attitude.
Ability to represent Envision Automation & Controls in a professional manner.
Self-Motivated.
Good driving record.
WORKING CONDITIONS & TRAVEL REQUIREMENTS
Able to work in high/low temp areas.
Able to work extended hours when needed.
Able to be on call to work weekends and holidays as necessary.
Willing and able to travel with overnight stays up to 20-30% within a year's time.