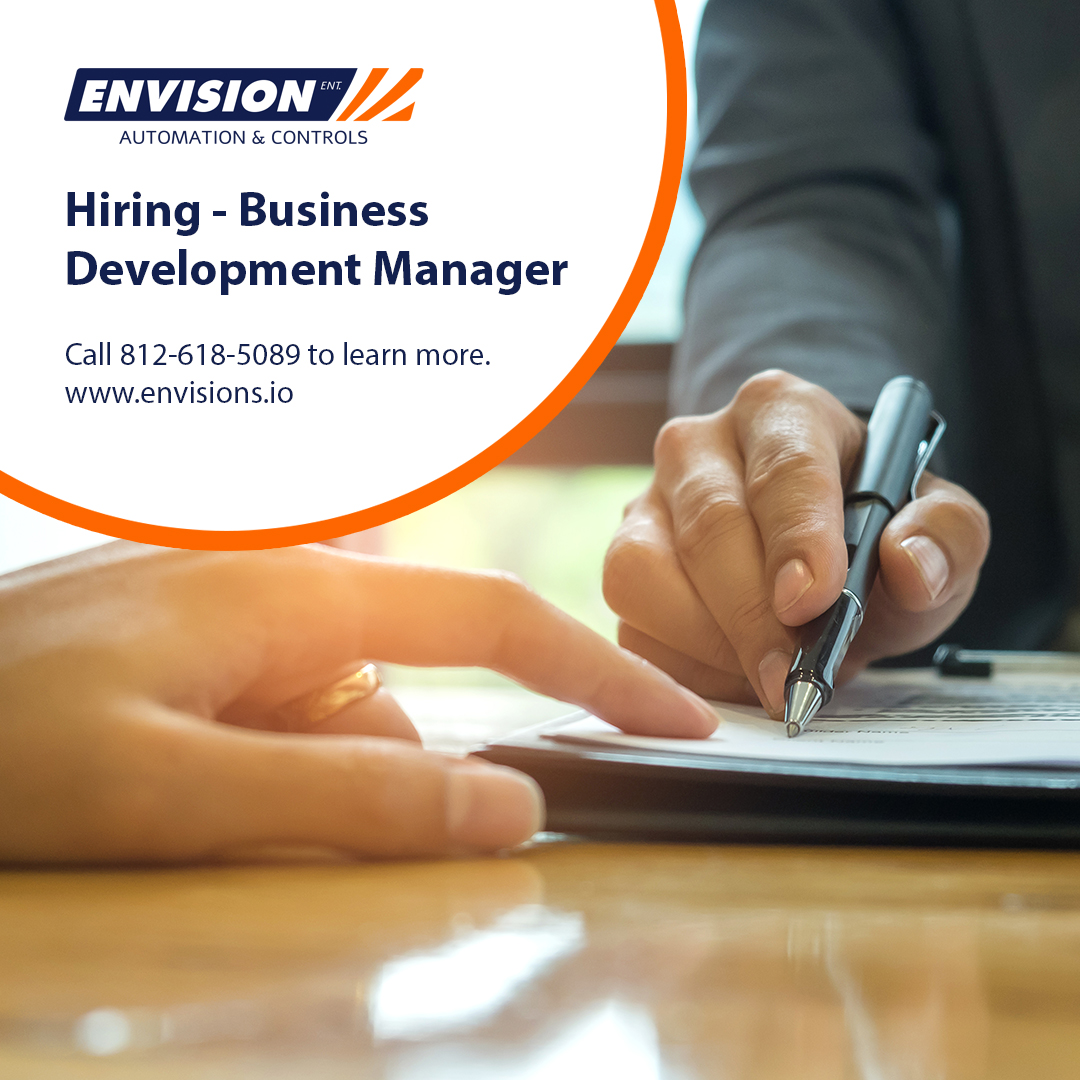 Hiring – Business Development Manager
Business Development Manager
Envision Automation & Controls in Evansville, Indiana is looking for a Business Development Manager with previous sales, business development experience.
Position Details
Envision Automation and Controls is looking for a Business Development Manager. This is a remote, full-time position.
COMPANY DESCRIPTION:
Founded in January of 2019 in Evansville, IN. Envision Automation & Controls has been involved in multi-million dollar projects all around the United States. New York, California, Florida, North Carolina, Virginia, Indiana, and more. We have taken part in projects from every stage. From electrical design & drafting to startup.
Our technology background is well rounded. Being proficient on several platforms such as: Allen Bradley, Siemens, Omron, Cognex, Keyence, Fanuc, Universal Robots, and more.
This equips us to handle virtually any automation or controls task.
DUTIES AND RESPONSIBILITIES:
Contacting potential clients to establish rapport and arrange meetings.
Planning and overseeing new marketing initiatives.
Researching organizations and individuals to find new opportunities.
Increasing the value of current customers while attracting new ones.
Finding and developing new markets and improving sales.
Attending conferences, meetings, and industry events.
Developing goals for the development team and business growth and ensuring they are met.
Identify, qualify, and secure new business with persistent prospecting, account planning, and opportunity management.
Achieve and exceed established quarterly and annual sales targets.
Incorporate and sell the full spectrum of your Solution offerings.
Develop and employ a value-based solution selling approach.
Create and demonstrate financial value for clients and company.
Quickly resolve customer problems and act as the customer's advocate.
Increase account penetration, document all activity.
Integrate and sell at all levels of the client's organization focused particularly at executive levels.
Develop long-term relationship and influence buying decisions.
Develops in-depth understanding of client motivation and decision makers – (technically and finically)
Identify buying influences, Key Performance Indicators, and risks.
Advance competitive knowledge on industry and partnership channels.
Make regularly scheduled visits with key and new accounts.
Demonstrate and communicate financial, old/new scope and professional value (e.g. ROI) to prospective clients, write proposals?
Utilize sales management tools for sales planning and documenting opportunities.
Experience
3+ years of demonstrated sales achievement in solutions selling position required.
3+ years of industry and understanding of automation, process, marketing, energy, IoT, Markets: Automotive, packaging, material handling, foods, agriculture, energy, secondary metals, rubber, plastics, or related industry highly desired.
REQUIRED SKILLS:
CRM
LinkedIN Sales Navigator
Must enjoy prospecting, qualifying, band developing new customer accounts.
3 or more years of proven experience with solution and financial selling at the C-level.
Experience in identifying, qualifying, building, and closing opportunities for energy savings projects in specific vertical market sectors.
Team player with experience as an effective leader of an integrated team.
Ability to manage and drive sales with a track record of successful revenue attainment.
Excellent communication (verbal and written), interpersonal and presentation skills.
Strong financial acumen and analytical mindset.
Willing to document track record and understand long sales cycle of developing and securing million-dollar customers.
START DATE:
Immediately
EXPECTED CONTRACT DURATION:
Contract to Hire
Travel Percentage – 25% (Mostly Locally to the Evansville, IN Tri-State Area – Several hundred mile radius).
Office Location – Remote Location / Evansville, IN.
Pay Range – Commission Only, with draws the first 6 months.
Expenses – Fuel, Meals, Company Cell Phone, etc. (All expenses would be related to customer visits, lunches, meetings).
Benefits – As a contractor you will provide your own benefits.
This will be a Contract Position. – 1099
Draws: Candidate will receive 6 months worth of draws to earn money right away while building up their network of clients.
Estimated Yearly Salary: $80,000 – Based on sales performance.
Commission would include: Existing and all new accounts.